When the flowers start to bloom and the days get longer, there are lots of ways to celebrate the season in and around this historic Northern Michigan port town.
Spring is almost here, and we're already thinking about all the activities we can't wait to get out and do with the warmer weather upon us.
Manistee is glorious in the spring. Besides its picturesque historic downtown full of charming Victorian architecture and historic landmarks, it's surrounded by acres of Northern Michigan's most superb lakefront and natural beauty.
Here are a few ideas to make the most of your spring visit to Manistee.
Head to Arcadia Dunes
Manistee is right in the heart of some of Lake Michigan's most beautiful dunes. Take them in at the C.S. Mott Nature preserve, where you'll find over 15 miles of trails that wind through both dunes and forest. There's lots to do in this stunning preserve, from birding and hiking to mountain biking and hunting, and a range of trails that vary in levels of difficulty and accessibility.
The most popular route here is Overlook Trail, a universally accessible trail that offers you a breathtaking view of the blue waters of Lake Michigan. Open year-round, this trail is especially pleasant in the spring when everything starts to green up.
You'll find even more color by hiking Pete's Woods, which bursts with spectacular wildflowers from late April through May. Download the  Grand Traverse Regional Land Conservancy's Spring Woodland Wildflowers Guide to make the most of your stroll through this gorgeous landscape.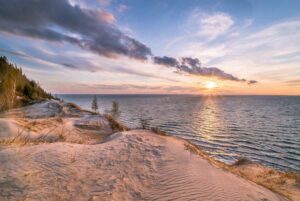 Fish, Swim, or Paddle Bear Lake
Known as one of Michigan's best coldwater fishing lakes, nearby Bear Lake is also an excellent spot for anglers in the spring, which marks the start of walleye season. Bass are biting at this time of year, too.
Or maybe paddling or swimming is more your speed. Rent a water bicycle at Bear Lake Marine or simply head to one of the lake's public access points for a relaxing day spent on, or by, the water.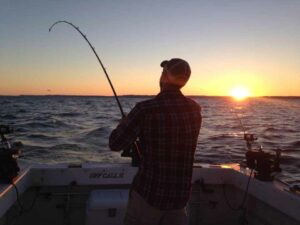 Drink from the Fountain of Youth in Onekama
If you've ever wondered where the Fountain of Youth was, look no further! It's an artesian well that pumps crystal clear drinking water in the village of Onekama, just 20 minutes north of the City of Manistee on Portage Point Drive.
Known as the "Two Lake Town," Onekama offers you views of—you guessed it—two shorelines: Lake Michigan and inland Portage Lake.
While you're in town, enjoy Onekama's top-notch paddling, boating, and beaches on Portage Lake, or grab a bite at the historic Portage Point Cafe, located in Onekama's 100+-year-old historic lakeside resort.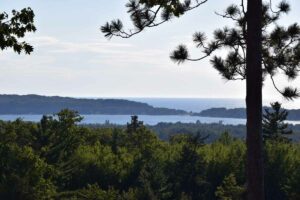 Take a Scenic Drive along Lake Michigan
Spring is the perfect time to set out on the famous M-22 Scenic Drive, which winds along the coast through Manistee, Benzie, and Leelanau Counties. Along the way you'll see historic working lighthouses, Victorian vacation towns, sugar sand beaches, national forests, bridges and dams, and some of America's most stunning dunes. Manistee marks the beginning of the drive. Take in the whole county or the whole route!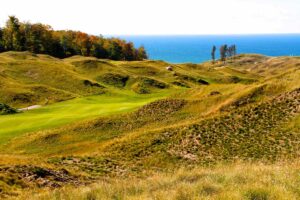 Spring is almost here, and it's the perfect time to visit Northern Michigan. Book your spring stay in Manistee County and take in the season's best attractions.